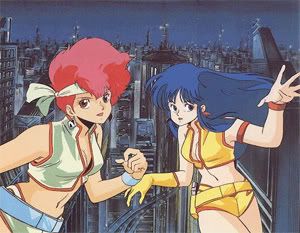 Original Dirty Pair TV
series from 1985 which started the whole franchise, simply the best version of the show, has finally is finally being fansubbed.
It was the first ever 'girls with guns' show of it's time and still one of the best sci fi shows to date, with a great cyberpunk feel to it at times. Despite speculation, the TV series has never been licensed or released on dvd.
First episode at animesuki in all it's remastered glory:
Download - Dirty Pair - Episode 1 - Torrent (Click Here)
Questions, feedback and discussion encouraged.