It's an easy question what anime got you hooked on watching? I'm curious to see what shows posters here can remember as being the one that got 'em and kept them watching all these crazy imports from that mystical land of Japan.
So when I was like 17 I got my first job which was at Blockbuster video. It was sort of the dream job for a 17 year old kid who loved watching movies, reading comics, and listening to loud mopey music. Working at the video store was great because I got at least 3 free rentals a week and 20% off buying things. I used this opportunity to watch a whole lot of anime. At the time (the far away land of 1999), Dragonball Z and Sailor Moon were pretty much at the apex of their popularity. Pokemon had more or less exploded into this weird fad that's still lingering on today. Anyways, as a huge fan of all of the above as well as reading Carl Gustav Horn's column at the time in Wizard, I used this as an opportunity to delve further and further into this weird phenomenom about which I wanted to learn more.
So it was there that I exposed myself to the like of such classics as Ninja School (I think this was the name of it) and Fushigi Yugi (long before I had any concept of Shoujo and Shonen). I wish I was kidding but I pretty much watched most the anime they had in stock. Luckily though they had titles like Ninja Scroll, Akira, and Ghost in the Shell (which to this day I will argue is better than the source material it came from) that I watched voraciously. Those anime continue to influence me to this day (for better or for worse). However, I want to talk about one anime that until recently I hadn't thought about in years. A series that I'm sort of flabbergasted I had not thought much about in almost 10 years.
Ladies and gentlemen, I am of course talking about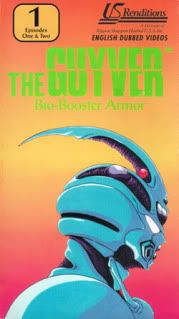 The Guyver.
See for me the more I think about it, the more this series was sort of a transitional thing for me. It was this transition from watching more kid friendly stuff like Ronin Warriors and Dragonball Z into far less kid friendly stuff like Akira. Now I should warn you The Guyver is not particularly deep nor is the plot particularly original. In fact, the reason I haven't thought about the Guyver in 10 years is that it's a pretty generic anime at this point in my experience as viewer. However at the time, this series came to me at just the right point in my life. You see it had all the elements of all the things I was really, really into like Spawn and the X-Files. It also was the kind of show that a 17 year old boy would love. It had a teenage protagonist who had the hots for a cute girl, a trust friend, and he was a superhero. Of course the most important part was that it was super, super violent. How violent?
Well here's the opening to the OVA.
Now imagine 30 minutes of that. That's pretty much what the Guyver was and I loved every violent minute of it. Heck I even watched the really short one part OAV that was probably even more violent! For me, this was like mind blowing. Looking back on it, I can see why I thought Guyver was awesome. Like I said, I liked that it was violent. The main character gets obliterated in one episode only to come back to life. I'm pretty sure at one point kills his own dad. The whole story was werid and convoluted. The monster designs were completely freaky to me at the time. Like I said, this was all stuff that as a 17 year old kid I loved to death. It's for those reasons I am pretty sure I also really didn't remember it until just recently. It's big, it's dumb, and doesn't require a lot of thought. I was reminded of it because I found out they did a new series. The new series is about twenty times less violent (or at least the first episode was). No Zoanoids (the bad guys of the series) get dismembered radically or vaporized but there's a enough disturbing imagery in it that I hope it inspires some youngster to eventually discover the likes of Ninja Scroll, Akira, and Ghost in the Shell. Also it reminded me that at one time, I really, really liked this show and I'm glad that I could have that fond memory return even if the source doesn't quite live up to what I remember it being.