Right after I posted this the Telstra Critial Fault person ran up and said the same thing that all the other dopy telstra people said so far I have spoken to
A Aussie who limitied my speed to V34
A dopy Turk who said that the rockwell string ------ my modem and told me how to reinstall it and gave me the Rockwell string again so i deleted it because its a conesnt chipset
A aussie again telling me to like get rid of the digital answering machine and cordless phone off the professonaly installed ethernet cat 5 network and put it in another slot not on the same socket and giving me a rockwell string to limit it to 28000bs
Another aussie who gave me a the number to the lines person cause i got kicked off straigth away after the last bloke
I spoke to the lines person who ran a MOLDS test and he said at 28000bs there was more resends!!! So he agve me a conesnt chipset string
A curry eater telling me to ring back the lines people to get a job number
a Aussie Dopey chick how was ment to pass my name onto the Jobs Fault person but didn't
A dopey ENGLISH Chick who passed it onto the Critical Faults person
A Technincan from critical faults telling me its MY MACHINCE and told me how to reinstall my modem and i said no becuase i give you ten guesses about the probem
1 - Your Server
2- Your Digital On Ramp
3- Your Server
4- Digital On ramp
then he said is this going to go on for ever and i said yes exept one
10- Maybe My computer dosn't like having its connection cut inhalf amillion times by your server so it hates IT!!!!!!
A complaints person - Told him about the bigpond site and the false advertisng!!!
Now all i'm waiting for is for a technican to come out and tell me its there fault
Anyway my Uncal a laywer is geting a class action against them
HA HA!!!!
To get my money back and copensation
So far for this month ring telstra and complaing, dial ups and calls to tech support have cost me over $100
See Below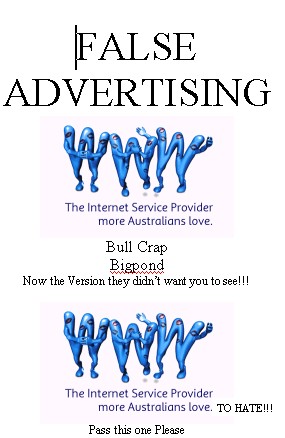 Ha Ha telstra